Myth Busted Behind "Happiness is a Choice"
While taking a walk, I saw a sign that looked like this: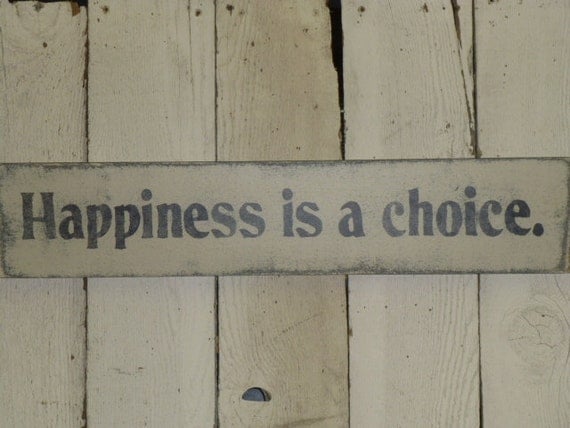 "Happiness is a choice." A few things immediately popped into mind:
In a way, happiness is a choice
And in a way, it's not a choice
Signs that have happiness 'sayings' are annoying
Being a person that understands how achieving happiness in every situation and every day is difficult, I, like many others, have found this saying to be misleading when it's used as an end-all-be-all statement about life satisfaction.
Combining different sources, it is said that anywhere from 33 – 50% of your happiness is related to genetics. Now more biologist and researchers are coming to the conclusion that genetics play a significant role in our overall happiness, but how much exactly is still unclear.
Happiness is then not 100% a choice but partly related to our genetics. Though, all is not lost. What is in your control can influence your predispositions.
Genes in their simplest form are packets of information relating to who we are and are either dominant or recessive. Any gene, if stimulated, can become dominant in its expression.
Our genes need stimulation to be activated. In an interview with Dr. Tali Sharot, we discussed how someone might have  genes relating to depression, but if they never experience stress or a 'bad' situation, the gene will stay recessive or dormant. Therefore, they will most likely experience happiness more often. One of the biggest stressors discovered this year, and to no surprise, is commuting. A study by researchers at the University of Zurich found that commuters underwent more stress than what could be compensated by their jobs. In this example, you could lessen the predisposition to feel anxiety or unhappiness if you could work closer to home.  You can influence your genetics by engaging in active situations or removing negative stimuli from your environments.
Recently, I challenged myself to come up with three positive incentives that would influence my "happiness genes." Genetically, like some, I'm more predisposed to be less happy at times. So I decided to challenge my genetics to a dual to get to the bottom of my happiness and genes!
If you want to take the same genetic challenge, comment below and we can share our experiences. Stay up-to-date on my journey here on our blog.